Using upribox to protect online privacy
Changing the Password
To establish a connection to one of the two WiFi networks, you enter the key changeme for the initial authentication of each network. This key needs to be changed as soon as possible after the first successful connection.
Because it's easy to configure upribox via the user's web server, you should next open a web browser and enter http://upri.box in the address line. On the start page that comes up, log in with the default credentials upri and changethedefaults! (Figure 4).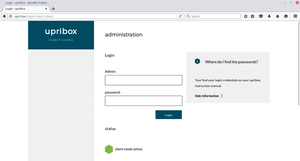 You should now see a nicely organized and tidy interface. The default password can be changed via this interface. The fields for entering the new password are located underneath the SSID for the currently active network. Right-click on the change button next to the indicator for the WiFi configuration and set the new password. The action is completed when the save button is clicked.
The system will not accept passwords that do not have the requisite minimum of eight characters and do not contain a mix of letters, digits, or special symbols. After entering a compliant password, upribox automatically configures the WiFi network and then reestablishes the connection. Closing and opening both networks is accomplished by clicking on either the enable or the disable button on the relevant settings page.
The Ninja Mode
The ninja-upribox WiFi network transparently channels all of the data traffic via the Tor network. This process may result in a noticeable decrease in speed because of limited bandwidth in the Tor network. This happens especially when several users are concurrently accessing the Internet.
In light of this issue, the upribox settings page for the WiFi network explicitly recommends that local computer systems use the Tor browser bundle. The bundle consists of the Tor client and a preconfigured and modified Firefox browser. It establishes connections exclusively via the Tor network. The Tor browser can be used without any problems with the upribox WiFi network, which hides ads.