Using upribox to protect online privacy
VPN Server
Upribox has another operating mode that permits use of an OpenVPN server. This type of server provides mobile security for the user. The mode is activated by switching to the administration screen and clicking on the enable button underneath each of the two WiFi options right next to the indicator VPN.
To connect with upribox via VPN, you first need to install the OpenVPN package on the client computer and configure a suitable client file containing keys and certificates together with other parameters. This profile file is set up in the upribox web interface by clicking on the create new profile button and then entering the profile name and domain. Next, click generate.
Upribox now sets up the profile file containing the newly generated key and certificates and makes it available for download. If you have multiple profiles, these will appear in a list that allows the selection of the appropriate profile. When using a smartphone as a client, you have the option of receiving the profile as a QR code by clicking on the corresponding button (Figure 5).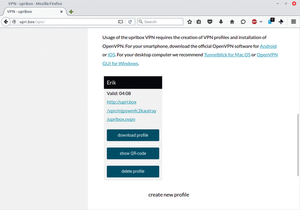 Once the VPN service has been started on upribox, the user should use the profile file generated by the server to configure the VPN connection on the client. The next step is to activate access to the virtual network. At this point, it becomes possible to communicate with upribox from any public hotspot over a secure virtual network via a VPN connection. Thus, you can take advantage of the benefits offered by upribox while out and about.
Statistics
In addition to the small number of configuration options, the upribox interface offers a statistics button at the lower left of the browser window. Once clicked with the mouse, a graphic appears that displays a period of several months and indicates the amount of blocked data during the time period.
The page also lists URLs that have been blocked. The numbers following the address for each URL indicate how often the URL has been blocked by the software. This lets the user draw conclusions about how widespread certain ad networks are.