Display T. Box: The (second) third generation
Wireless Access to the Internet
As with the previous generation of Display T. Box, videos can be played on the HDMI screen with OMXPlayer, which has been optimized for the Rasp Pi GPU. You do not have to make changes to the X server. To play videos, you call the video file with
omxplayer <Video>.mp4
By issuing the fbcp command in a second terminal, you also copy the content of the framebuffer to the internal display. The Ctrl+C key combination lets you interrupt playback. Pressing Ctrl+Alt+F7 takes you back to the X server.
The first version of the Display T. Box had a USB WiFi adapter on the side. This accessory is obsolete in the current version because the RPi3 built into the Display T. Box already has an integrated WiFi and Bluetooth module. To generate a connection, you tap on the network icon found in the system header bar and select the desired wireless network (Figure 5). Entering access data requires at least temporary connection of a USB keyboard.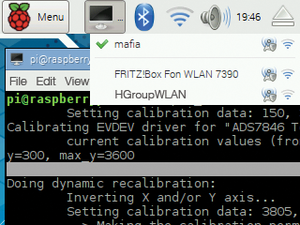 Conclusion
Because of its compact size and touch screen, the Display T. Box 3 is ideally suited for Rasp Pi projects that require reading output and the entry of simple input. Potentially, you could develop programs to use in conjunction with projects. Ideally any program that is used should be optimized for touch screens. LibreOffice, for example, won't find much of a following among users confronted with a display that has just a few hundred pixels.
The new version of the Display T. Box can be more precisely controlled because of the improved touch screen. The addition of the number "3" in the name refers to the Raspberry Pi 3 built into the Box. The matte surface of the touch screen makes it easier for the stylus to glide across the screen, and readability in sunny conditions is improved. Small changes to the display also make the system more accessible for hobbyists.