Further NOOBS and Raspbian Updates
NOOBS 1.3.10 was officially released on September 12, and Raspbian version 2014-09-09 has also made an appearance. These updates seem to be coming thick and fast, which is probably in part due to the Raspberry Pi Foundation's increased focus on software optimization. This new version brings with it several fantastic "big-ticket" upgrades, including an update to Mathematica 10, Sonic Pi 2, and Java JDK8. The Epiphany browser, which was mentioned above replacing Midori as the default web browser and the Raspberry Pi version of Minecraft preinstalled. As always, there are also several firmware updates, kernel improvements, and bug fixes, and this release also includes driver support for the BCM43143 802.11n WiFi chip, which is used in the official Broadcom WiFi adapter, as well as the two-port USB hub. You can get the new versions in the downloads section [12] or view the release notes [13] for more details.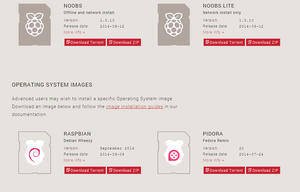 Compute Module IO Board Design Files
For any advanced or industrial users who wish to take advantage of the extra flexibility offered by the new Raspberry Pi compute module, the Raspberry Pi Foundation has released the full schematics, CAD designs, and Gerber files, as well as a complete bill of materials for the associated Compute Module IO board. The release is under a modified BSD license and will enable people to easily create copies of the board or modify the design for their particular needs. Alongside the announcement on the official Foundation blog James Adams, the Director of Hardware at Raspberry Pi, mentions that sales and production of the compute modules are ramping up nicely, and the device is already available for immediate shipping in single quantities and up from the two official manufacturers Farnell and RS Components.