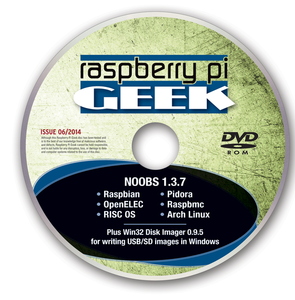 All these ISOs on a single disc:
NOOBS (New Out Of the Box Software) provides beginners an easy way to install operating systems on their Raspberry Pis. The NOOBS installation manager offers the following operating systems:
Raspbian "wheezy" – Debian-based distribution recommended for beginning users.
Pidora – A Fedora remix optimized for the Raspberry Pi.
Arch Linux ARM – A special version of the popular Arch Linux tailored for the Pi.
OpenELEC – Open Embedded Linux Entertainment Center – a small (80-120MB) Linux distribution that turns your Raspberry Pi into an XBMC media center.
Raspbmc – XBMC media center distro based on Raspbian.
RISC OS – Not Linux, but a separate OS that has been around since 1987 and traces its roots to some of the original developers of the ARM chip.
The DVD enclosed with this issue comes with a collection of some of the best and most popular Raspberry Pi distributions. Format an SD card FAT32 using a card reader attached to your PC, and write the files included on this disk to the SD card using a disk image writer application. Then, unmount the SD card, insert it into the Raspberry Pi, and reboot.
In the NOOBS boot menu, select the operating system you want to install. Most of the articles in this issue assume you are running Raspbian "wheezy." See the links in the "Resources" box for information on the other distributions included on this DVD.
Note: The free disk image writer Win32 Disk Imager is included on this DVD for Windows users. Mac OS and Linux systems have built-in tools for writing a bootable disk image. Consult your OS vendor documentation.
Digital Edition Readers:
Visit our shop at http://shop.linuxnewmedia.com/rpi to download an ISO image of this DVD.
Defective discs will be replaced. Please send email to mailto:subs@linux-magazine.com.