VoCore Coin-Sized Linux Machine
A number of Linux-based, open source micro-computers have reached the market in recent months – some of which bear an uncanny resemblance to the Raspberry Pi. The VoCore, however, takes a completely different approach, and the results are mind-boggling! VoCore uses a 360MHz MIPS Ralink RT5350 chip – a chip often found in wireless routers and access points.
The VoCore fits more than 20 GPIOs, onboard WiFi, and a number of other interfaces into its tiny package – a 25mm square (less than one square inch!). This board is perhaps the most impressively laid out PCB I have ever seen, and it is available for the equally impressive price of US$ 20.
If you are looking to run Linux or OpenWrt in the smallest possible package, VoCore is the board for you – perfect for Internet of Things and home automation projects. It is currently funding on Indiegogo [6] and, with 30 days to go, had reached US$ 85,000 in funding by more than 2,200 backers. VoCore will be in the last few days of its crowdfunding campaign when this magazine is released; however, if you miss out, you should still be able to get a VoCore from the creator's website [7].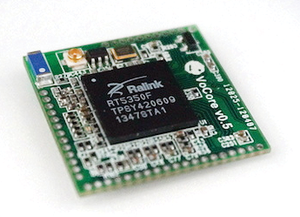 Quake III Bounty Won
You might remember that to celebrate the second birthday of the Raspberry Pi, Broadcom made quite a big move in publicly releasing the full documentation for the VideoCore IV graphics chip at the heart of the Raspberry Pi computer. At the same time, they also released the full source of the graphics core in the BCM21553 mobile phone chip, which is similar to the BCM2835 processor found in the Raspberry Pi.
To accelerate development of an open source ARM graphics driver for the Raspberry Pi, the Raspberry Pi Foundation offered a US$ 10,000 bounty to the first person that managed to port the source from the BCM21553 to work on the Raspberry Pi. To win the prize, the drivers created had to be good enough to run Quake III successfully at a playable frame rate.
The prize was won in just over a month from the beginning of the competition by long-time Pi hacker Simon Hall. This is great news for everyone with a Raspberry Pi (unless you were also trying to develop the drivers at the same time) and is likely the start of further improvements to the existing graphics stack.
The release of all of this information by Broadcom is a big step forward from a large company that was once very closed and is now becoming more open. This kind of initiative should accelerate development for the Raspberry Pi and help to advance technology across the whole industry. For more information about the release, see the Broadcom website [8].