The making of HDMIPi
Powering the Pi
According to Mellor, quite a large part of the work in the development of HDMIPi was ensuring the driver board (Figure 5) – which acts like a bridge between the screen and the Raspberry Pi – was of suitable quality.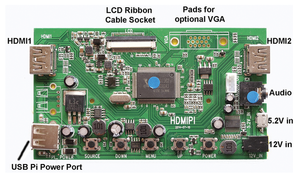 "We wanted a driver board that not only supports the screen but would support the Pi, too," Mellor said. "It needed to be tweaked to what the Pi needed in terms of power, too. It was important to us that there was only one power supply coming into the unit. The Pi also needed to be accessible to the outside world in terms of the GPIO pins, but integrated in the overall package."
Mellor said a lot of change was needed in terms of a standard format driver board, so they settled on a custom-made model to suit the HDMIPi's needs. Thus, the driver board features two power options: One is rated at 12V, which makes it ideal for being integrated in a car, and the other is 5.2V, which is enough to power the screen and the Raspberry Pi simultaneously. Both power supplies will feed the Raspberry Pi via its micro-USB port. The back of the HDMIPi is cleanly laid out (Figure 6), although some changes have since been made.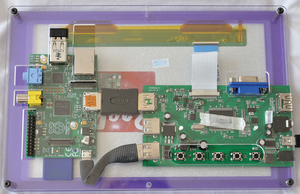 Mellor thinks the education system should particularly benefit from this aspect of HDMIPi. "If you can imagine a classroom with 20 or 30 Raspberry Pi stations, if you're running a Pi and separate screen, that's maybe 40 power points you've got to find. Not to mention dragging it all out of cupboards and setting it up – it's not easy," said Mellor. "Teachers love the idea that this is entirely self contained – just add a keyboard and its done. There's minimal set-up time, too."
As with power, the HDMIPi also features two HDMI ports: "Obviously, it features HDMI to feed video to the Pi, but we also have another HDMI connector, so if you wanted to display to the outside world via another screen, too, that's possible," explains Mellor. "It took three or four iterations of driver board, but now it's right and in production." In fact, the shipment has already reached UK shores and testing is almost complete. (See the box called "HDMIPi Comes in Kit Form" for more details.)
Mellor thinks the HDMIPi is perfect for the maker market. "We thought that would be great fun to be able to receive a bag of bits with spacers and nuts. Because the enclosure is PiBow-esque, they've got a few layers of plastic to place the screen in. Users can also chop it around to suit their needs. If they're going to build it into a project, they can drill a few holes and Dremel corners to suit them," he said. Because HDMIPi is in kit form, it's really easy for makers to create cases in different colors, too.
A Bumpy Road
The development of HDMIPi wasn't plain sailing, however. "We had some smaller issues like voltage drops and some parts were getting a little hot," said Mellor. "We had to tweak it a few times to make it run as we wanted it to. There are several formats we wanted to support, and we were thinking of the camera world, games consoles, and the main HD video formats. We had small issues with the menus that we had to tweak, too, but a few iterations of the driver board later, and we were there.
With nearly 3,000 Kickstarter backers and nearly 1,000 pre-orders on HDMIPi.com, the first shipment of the finished product should mean some available units from day one, which, if all goes to plan, will be in September. By any measure – including the Kickstarter campaign and subsequent interest from business and charitable organizations – the project has been a massive success, but Mellor wasn't prepared for the level of interest it actually achieved.
"At the start of Kickstarter we were wondering if we'd be able to get up to a thousand people interested in HDMIPi, so we've really come a long way. We haven't even advertised it, we've just let the Kickstarter momentum just dribble on. We haven't gone out and try to sell it, yet we're hoping it will still be going strong in a couple of years time," Mellor explained. (See the "Why Kickstarter" box for more information.)
With a successful business like Cyntech, I asked why Mellor chose the Kickstarter [3] route, as opposed to self-funding: "The community is quite fragmented. Tens of thousands of people looked at the Kickstarter promotional video and to actually get to speak to that many people otherwise is very difficult to do. We needed one thousand people to say yes, so we were wracking our brains, and the only really suitable format was Kickstarter. Fortunately, when we did the campaign we had a good video. Alex Eames wrote the page superbly, and it was picked up by the wider community – they really got behind it. With the power of the Kickstarter, plus the community, we were able to get to where we needed to be," Mellor explained.
Despite all this success and interest, there has been another thorn in HDMIPi's side: The Raspberry Pi Foundation plans a screen of their own, and it is likely to be cheaper and include touch support – a feature that's lacking from the first HDMIPi model.
"It was something Eben Upton mentioned was on the back burner when we originally spoke about HDMIPi," said Mellor. "In terms of timescales, it was clear we were going to be on sale first and the Raspberry Pi Foundation are going a slightly different route with touch support on their screen. It may not be HD, but I might be wrong.
"We weren't at all put out by the news," Mellor said. "What we set out to do was bring a low-cost LCD screen to the Raspberry Pi community, and that's what we've done. It's been really successful from that point of view and we honestly believe it has a future. There will be other iterations of the screen coming – bigger and smaller – and we will actively pursue touchscreen too. We're looking to give the community what they're asking for."