Create a call button for a family member in need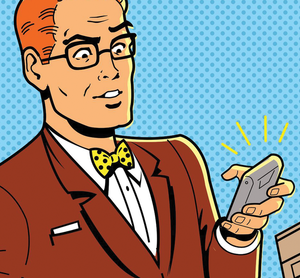 callBit
Help a bed-ridden housemate with a call button that lets you know when they need help.
When someone in your household becomes ill or incapacitated, you can see to their needs and help them feel less isolated – without completely upsetting your routine – by creating a call button that lets you know when the unfortunate one needs help. In this article, I show you how to build wireless- and cloud-based call systems with littleBits [1], then I rig up a retro servant's call box just for fun.
Simple Wireless
The simplest setup comprises a button and wireless transmitter on one end and a wireless receiver and buzzer on the other end (Figure 1). The wireless boards can be powered by 9V batteries, so as the ailing user becomes ambulatory, they can still ask for assistance.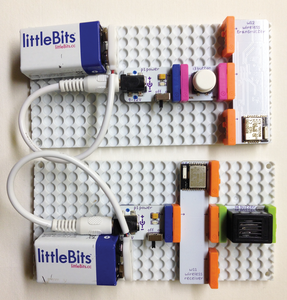 The littleBits wireless devices are only usable to 100 feet (30.5m), and frankly, that buzzer is a little annoying. A more sophisticated setup would send a text message to your phone, and for this, you need a Cloud module.
Calling All Clouds
Before you can use your Cloud module, you have to set it up online once for the network you will be using. According to the traffic in the forums [2], most people have to set up their modules from a cell phone or tablet instead of their desktop computer; it seems to have something to do with the WiFi password verification procedure. Save yourself some grief and sign on to Cloud Control with your smartphone [3].
Figure 2 shows the littleBits modules you need for this part of the project. The Cloud module needs a fair bit of juice, so you have to use the p3 USB Power module hooked up to a wall outlet. Also, make sure you know the admin password to your network. To begin, hook up your Cloud unit to power, then start the online setup process.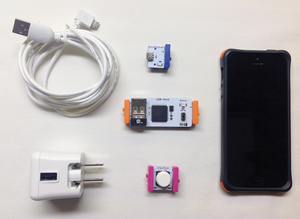 The series of screens in Figure 3 walks you through the setup process. Your module might be slow to start blinking green; be patient and you should see it blink. After you switch to the littleBits_Cloud WiFi, enter your password, and receive verification that you are connected, you have to switch back to your home network to continue.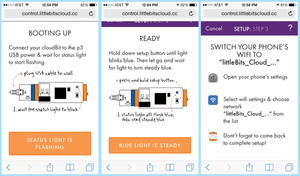 Later screens direct you to set up simple circuits that test your connection. If they don't work right away, continue on to IFTTT and see if you can get it to work. After uplugging and replugging the Cloud module, the tests worked. Once your module is set up, every time you plug it in, it will automatically connect to your network; just wait for the solid green light, and you're good to go. You will now have a cloud control option in your personal menu once you log in to the littleBits website.