Digital – Analog – Mechanical
Bluetooth Communication
The next step is to incorporate Bluetooth by including the RedBearLabs BLE Mini, which uses Bluetooth 4.0 low-energy technology to generate signal input from a mobile device. The BLE Mini uses a serial port for communication, so it supports all development platforms that have a UART interface (e.g., Raspberry Pi, Arduino, BeagleBone).
The J4 connector on the BLE Mini has six pins – Reset, P0_0, RX, TX, GND, and Vin (looking from the MicroUSB port inward) – but I'm only interested in the four pins farthest from the MicroUSB port. These pins are:
Vin – wired to the power bus
GND – wired to the ground bus
TX – wired to the Serial1 RX pin 19 on the Arduino Mega
RX – wired to the Serial1 TX Pin 18 on the Arduino Mega
The wiring on the breadboard should look something like that shown in Figure 7. Figure 8 shows the real-life result.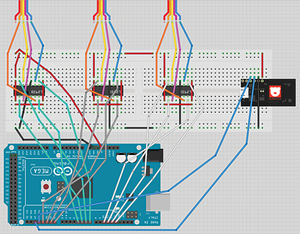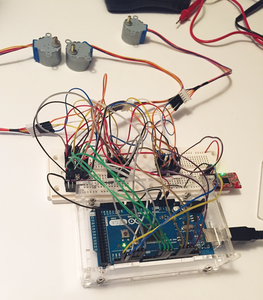 Upgrading the BLE Mini
Before going any further, make sure the latest firmware has been loaded into the BLE Mini [6]. To do so, hold the Reset button down while connecting a USB cable to the PC. The BLE Mini will pop up as a removable media device. Delete the current *.bin file and copy the newly downloaded *.bin file. Now, cycle power, and you should be in business.
You also need to install additional libraries. To do so, just follow the directions on the Arduino website [7]; it will step you through loading the BLE Mini library [8].