Extensions for the Raspberry Pi
Taking a Position
The Raspberry Pi can request measurements for current temperature, air pressure, and location via a MEMS sensor board (Figure 3). Also known as the Xtrinsic Sensor Board, it can be plugged into the Rasp Pi and contains a magnetic field sensor and an acceleration sensor that is able to distinguish among three different directions. The MEMS sensor board can be purchased for EUR30/$33 [13].
The BitScope Micro (Figure 4)is a complete oscilloscope with an integrated logic analyzer. Unlike most of the other hardware extensions available for the Rasp Pi, this is a USB device (see the BitScope Micro article in this issue). The digital oscilloscope has two channels with a bandwidth of 20MHz and 8- and 12-bit sample resolution. According to the manufacturer [14], the BitScope Micro does not need its own power supply. The small oscilloscope comes with software included. The API for the software can be downloaded from the Internet. The BitScope Micro costs about $145.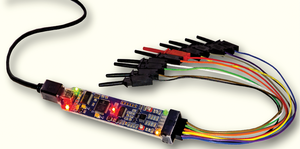 Feeling at Home
More and more household devices are now accessible via wireless control. For example, Hue lighting from Philips [17] is controlled with an app that communicates via the Zigbee standard.
A pluggable module made by Dresden Electronik [18] can speak to and control these kind of devices. The module comes in the form of a board that the manufacturer has dubbed the RaspBee. The board has a range of up to 500 meters and is available in two versions. The basic version costs EUR30/$33 and speaks to a maximum of five nodes at a time. The premium board costs EUR48/$53 and juggles up to 200 nodes. The RaspBee board can also talk with Series 2 XBee devices and recognize other IEEE 802.15.4-based wireless protocols, and it works with its own firmware. However, it is not compatible with the bridge for the Philips Hue system.
The RaZberry module [19] can handle the Z-Wave standard that applies in home automation. However, the SDK offered by Z-Wave.me is partially closed source. The pluggable module is available in Germany for EUR60/$67.
The EnOcean Pi lets you control the battery-free, wireless modules that are made by the EnOcean company [20]. These modules collect the energy they need to operate from motion, light, or changes in temperature. The EnOcean Pi costs about $40.