Extensions for the Raspberry Pi
Do You Have Audio?
The HAT module HiFiBerry plays music and audio (Figure 5) and comes in several versions [21]. Among these, models of the mini sound card come with a choice between an analog cinch or digital S/PDIF outputs. For the latter, both an optical and an electric jack are available. All audio signals are processed with 192kHz in 24-bit.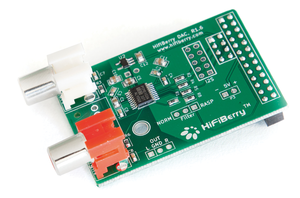 The German manufacturer Modul 9 even sells a mini amplifier with the HiFiBerry amp [22]. The mini accessory has a maximum performance of up to two times 25W, and Raspberry fans can clip a loudspeaker directly to it. The HiFiBerry amp costs EUR60/$67, whereas the other options run between EUR25 and 30.
An alternative option exists in the sound card (Figure 6) from Wolfson Microelectronics [23]. The card has microphone and stereo line inputs but does not yet have a stereo output. The small adapter board costs $44.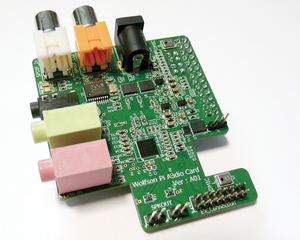 Loss of Power
The Pi UPS plugin board developed by CW2 enables a controlled shutdown for the Rasp Pi or a switch over to battery power in the event of a loss of power [24]. Additionally, the Pi UPS makes it possible to monitor the power supply using the Raspberry Pi and software that the manufacturer offers. The Pi UPS costs $33. An improved version called Pi UPS+ was announced for January 2015.
StromPi is an alternative to the Pi UPS [25]. This extension also monitors the power supply and will switch to battery power if necessary. Additionally, it can connect the Raspberry Pi to power sources with a voltage that fluctuates between 6 and 36V. The board delivers up to 2A and costs around EUR25/$28.