RasPiO Duino
The Raspberry Pi and Arduino are a match made in heaven, and a number of Raspberry Pi add-on boards have successfully paired these two platforms together; the latest example is the RasP.io Duino. You are probably wondering what makes the RasPiO Duino any better than or different from any similar existing products.
Apart from the cool black and white PCB design and the immersion gold contacts that will be on the final version, RasP.io Duino will almost certainly be the best supported Arduino add-on for the Raspberry Pi. Alex Eames from RasPi.TV is behind the RasPiO Duino project, so you can rest assured the documentation and tutorials for the product will be extremely detailed and will likely include video tutorials and high-quality photography.
The board is not an Arduino clone, so it will not work with Arduino shields and add-ons, but RasP.io Duino makes use of an ATmega328P microcontroller and will be programmable using Arduino-compatible programming. It is compatible with all Raspberry Pi models, and once the ATmega chip is programmed, it can be used completely independently of the Raspberry Pi.
The funding period has now finished on Kickstarter [9], but you will still be able to purchase these kits from the RasPiO website [10] – and likely from a number of resellers in the near future.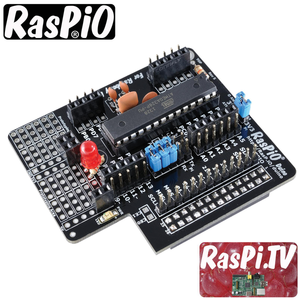 The MagPi Is Official Rasp Pi Mag
The MagPi magazine [11] was started in May 2012 (before anyone even had a Raspberry Pi) by a group of enthusiasts on the Raspberry Pi forums with the ambitious aim of becoming a monthly community fanzine. A catchy RasPi-themed named was coined (like all good Raspberry Pi-related products) and after a considerable amount of hard work, the first issue was released – it was an instant hit! Fast forward three years and, completely in the hands of volunteers, The MagPi had published 30 issue in three volumes. The typical monthly page count also increased within this period from 32 to 48 pages.
On February 27, 2015, the Raspberry Pi Foundation announced, alongside the release of issue 31 of The MagPi, that the community magazine would now be the official Raspberry Pi Magazine [12]. The Foundation took this action in an effort to ensure the long-term future of The MagPi and remove some of the most onerous tasks from the hands of volunteers, who were increasingly running short of time.
The new MagPi will retain the same spirit of community contributions and free access to information but with a fresh new look and a professional layout and editorial team headed up by Russell Barnes (@another_russell). Take a look at the new MagPi section of the Raspberry Pi website for more information.