Announcing the Kodi 15.1 Media Center
A new version of the Kodi multimedia center (formerly known as XBMC) is now available. Kodi is an application designed to let you convert your computer into a home entertainment hub, with support for audio and video streaming and playback. Kodi 15.1 "Isengard" is primarily a maintenance release focused on fixing bugs and usability issues with Kodi 15.0. Version 15.0, however, was a major release that introduced several big changes, so you can think of 15.1 as an additional step of testing, troubleshooting, and final changes for the process that began with the 15.0 development effort.
As you might expect, the two leading Raspberry Pi distributions built around the Kodi media center are already working on new versions that incorporate the Kodi 15.1 release. OSMC has announced that its August update includes Kodi 15.1 support. OpenELEC 6.0, which includes Kodi 15.1, is currently at the Beta 4 stage, so a new release might be available by the time you read this.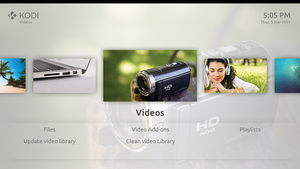 Tea, Earl Gray
One of the more interesting crowd-funding projects in the news this month is the Mycroft home artificial intelligence platform, which is built around the Raspberry Pi 2. As of this writing, Mycroft had achieved 75% of its funding goal, with $99,000 sought and $74,705 pledged.
Mycroft, a small console that looks like a nightstand-style radio, can process voice commands and is wired for home automation services, such as locking doors, starting the coffee in the morning, and playing music by request. In the video at the Kickstarter site, the user talks to Mycroft like Captain Picard talks to the ship's computer, telling the system to do things while she wakes up and walks around the house getting ready for work. Creators of other voice-activated systems have overstated their capabilities in the past, but most AI fans believe this kind of interactive home-automation technology will one day be commonplace.
Although several vendors are currently working on similar all-purpose, voice-activated automation products, one interesting feature of Mycroft is that it is a free hardware and free software solution designed to unleash the powers of community development. If Mycroft succeeds in achieving its funding goal, its success will depend on whether the company can enlist enough developers to build the modules necessary for interfacing with the burgeoning market of smart devices.