Build a walking piano with the RaspberrySTEM Creator Kit
Conclusions
Everything that can be done with the kit can be accomplished with an RPi2, a breadboard, a supply of electronics, and the time to google for the electronic and programming information needed to create a project. The kit, though, brings this all together in one place with well-designed projects for the beginner. Once through a lesson, the student has a good basis on which to continue independently. Another advantage of the kit is that the case and lid establish a very stable environment for creating projects that don't sprawl across the desktop with cables, wires, and various parts scattered about. The GPIO pins are readily accessible. Even users with an established skill set would find the RaspberrySTEM kit a useful development platform.
Because of the way the connector board is attached to the RPi2 GPIO pins, the I2C and camera interfaces are not easily accessible (Figure 13); however, with some disassembly, you should be able to pull out cables and reassemble the kit.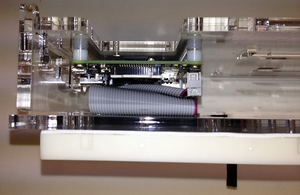 The only real problem I encountered using the kit was that the HDMI to DVI adapter couldn't be used on my monitor because the adapter took up all the space available, so the HDMI cable couldn't be plugged in. However, I found another monitor by the same manufacturer with a straight, unimpeded path to the interface that worked just fine.
Although the projects are copyrighted, the RaspberrySTEM source code is open source and available on the project's GitHub site [2], where you can also find schematics and documentation for the hardware, including the Gamer lid used here and the header connector board. The website [3] has resources for educators, FAQs, and a support page.