SunRover Part 2 – Solar Power Controller/Power System
Test Results
I used two major suites of scenarios to test the solar power charging subsystem. First, I checked out the SunAirPlus charging systems by supplying the panels with a variable power supply. I connected a power supply to the solar panel charging system using the same waterproof 8-pin connector that is on the solar panels. I turned up the voltage to 6V and all the charging lights on the SunAirPlus boards came on and the current started flowing. The system test is shown in Figure 16.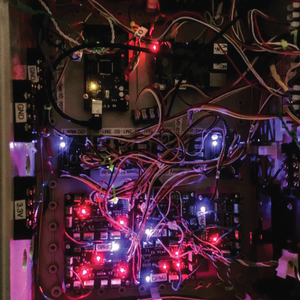 Figure 16 also satisfies the obligatory night time picture showing all the LEDs in SunRover. Although the charging lights do burn current, they sure make it easy to see what is going on in the system. This picture was taken before the redesign of the Motor power supply.
Outdoors Charging System Test
Finally, it was time to take SunRover out for her first walk. I bolted on the solar panels, hooked them up, and carried the robot way out in the yard to be in the sun. Figure 17 shows the somewhat lonely robot. I then retired to the shade with a mint julep (actually a vodka tonic) and my laptop, logged into the Raspberry Pi2 with SSH, and started running tests. Although I had put a very bight light on each of the solar panels inside to verify wiring, this was the first full system test of all the panels running through the SolarPower Multiplexer. The system worked like a champ. After the motor redesign, it was a relief to have everything work as designed.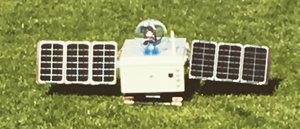 I ran the solar panel multiplexer in each of the major modes. Each time I changed the multiplexer, the amount of current changed appropriately in each of the SunAirPlus charging systems.