Raspberry Pi as a tool for museum and science center exhibits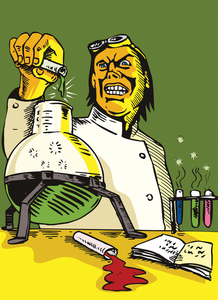 Mad for Science
Save time and stretch your budget by integrating Raspberry Pi into museum exhibits and educational displays.
Increasingly, museums, science centers, and planetariums have experienced budget cuts and reduced patronage in response to the recent economic downturn. In an industry that many believe falls into the "nice to have" and not the "must have" category, remaining financially stable and educationally relevant is a constant challenge.
At the Central Texas College Mayborn Science Theater [1], the goal is to keep visitors engaged so they extend their visits, return more frequently, and recommend the facility to others. A higher level of customer interaction increases the likelihood that visits will be more memorable and that patrons will share their experience with friends and family. To meet the challenge, the science theater needed a tool that could run the exhibits and fit the tight budget.
Raspberry Pi was the answer, and it came at the right price. By combining Pi with Linux as described here, you can create a low-cost platform powerful enough to run exhibits and to fabricate traveling exhibits. The traveling exhibits are inexpensive to make and small in size, which keeps shipping cost to a minimum. As a result, patrons are more engaged and remain in the exhibit space, and you have an additional revenue stream.
Because the Mayborn Science Theater is part of a state community college, a few obstacles were encountered from the IT department. Like many large public entities, the science theater is required to meet the college's prescribed minimums and purchase PCs from the state-approved vendor. In this case, these bulk purchase agreements (which, in most cases, save state agencies money) put the facility in an unwinnable position. After the situation was explained to IT, fortunately, an exception to policy was granted, and the facility was able to buy six Raspberry Pis for less than the cost of just one typical campus PC.
Pi Power
For a facility under pressure to produce a high-quality educational experience, create return visitors, and provide the most value at the least cost to produce, Pi running Linux has kept the science theater on target. The only difficult part of this process was deciding how to use the Pi. But, here, the options are only limited by your imagination. The following list shows a few of the ways that Linux-driven Pis are currently in use, along with some future plans. Figures 1 and 2 show some exhibit prototypes.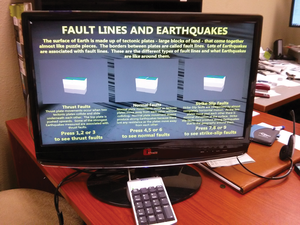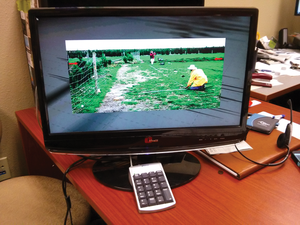 Play a video.
Run a slide show.
Run a simple quiz or trivia game.
Log interactions to track how the exhibit is being used.
The simplicity of the exhibit setup also has the added bonus of allowing the exhibit to reach school children from rural school districts that may not be as well equipped as the typical suburban or urban school systems. Additionally, the science theater staff frequently field questions from teachers about how the exhibit is run without a computer. These people don't think of something as small as a Raspberry Pi as actually being a computer (Figure 3). Once the staff explains the technology and lets them know how cheap it is, the Raspberry Pi has gained a fan and maybe even inspired a potential hobbyist or practitioner.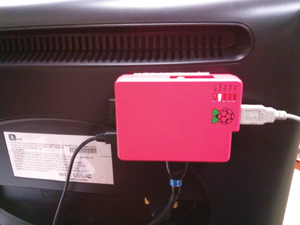 The following scenario illustrates the cost-effectiveness and efficiency of the Linux-driven Raspberry Pis. Suppose you are tasked with setting up a classroom-sized exhibit space that includes an interactive set of exhibits that complement a new show in your planetarium. The intent of the exhibit is to help visitors understand earthquakes and general geology. You have a 60-day deadline and a budget of US$ 1,500, and you can only minimally staff the room.
Sticking to the traditional method of exhibit design and fabrication, most people would rely on panels with text and images placed on the walls and possibly a single PC running some type of slide show with an embedded video – all of it looped. By using the Linux-driven Raspberry Pis, four video monitors and some speakers, four separate exhibits can be created to stand alone or be visited sequentially for an experience that builds upon itself. If you combine the Pi exhibits with the traditional wall-mounted text and image panels, you now have a thorough experience that will keep visitors exploring, reading, and learning far longer than the traditional single-PC alternative.
Small Can Be Big
In his book The World Is Flat [2], Thomas L. Friedman states that "small can be big." To be "big," one must take advantage of what Friedman calls "Flatteners." Flatteners are those things that allow people with access to them the ability to collaborate, compete, and communicate with everyone. The PC was one of those "flatteners," which when coupled with a simple, user-friendly graphical user interface, "created an army of people able to create this digital content more easily and cheaply than ever before." The Linux-driven Pi and all the other devices in this category serve to "flatten" the world a little further.
Using one of these credit card-sized, single-board computers and a little knowledge of Linux, anyone can turn out a product that is small in size and carries tremendous impact on the end user. The science theater staff now creates educational, entertaining exhibits that engage visitors long enough for them to attend a second program in the planetarium. Once the exhibit has run its course, it can be leased to another facility looking for fresh and inexpensive content. This small operation is now competing with the big exhibit content providers because the cost is minimal.
From an educational standpoint, the possibilities seem endless. Exhibits can be switched with just a few months' turnaround time. By designing the exhibit platform in the most generic and space-saving way, you can fill a niche that is typically ignored by the content providers. I hope that the example provided here will inspire my informal science presentation industry colleagues to begin to create their own content. Everyone will benefit from an inexpensive, content-rich environment, which will allow facilities more time with their own exhibits, knowing that diverse content can easily be purchased or leased from another facility.