MouseAir launches toy mice for the amusement of cats
Software System
The MouseAir software is pretty simple, with two main pieces of software. The first piece is the MouseAir.py program that comprises about 1,000 lines of custom code [5]. The second part of the program is the custom part of the RasPiConnectServer Python routine, called Local.py, of about 700 lines. Local.py writes and reads to various files to communicate with the MouseAir.py main code. Both programs are running at the same time (Figure 10).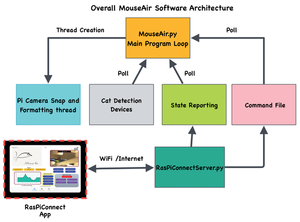 Reactions
Most cat toys are designed to persuade a person to make a purchase; it's more difficult to market to a cat. MouseAir demonstrations have caused a lot of laughter, avoidance of mice flying through the air, and some odd looks at the author. People enjoy this project because it makes noises and throws things. People score: 85 percent approval, 15 percent head shaking.
Panther the cat, on the other hand, ran in terror the first time he triggered the device with his RFID collar. (He was bribed with cat treats in the RFID antenna bowl.) He has ignored manual mouse launches, beyond following the mice through the air with his eyes, but he will still seek the mice out when they are on the floor and knock them under doors, appliances, and couches. Cat score: 30 percent approval, 70 percent indifference. I consider that a success.