Broadcom USB Hub and WiFi Adapter
Broadcom, the designers and manufacturers of the BCM2835 SoC (system on a chip) that sits at the heart of the Raspberry Pi, has recently announced the intention to release a USB WiFi (802.11b/g/n) dongle with integrated 2-port USB hub, which is squarely aimed at users of the Model A Raspberry Pi, as a quick and easy way to add networking and additional USB ports.
The full specification is pretty much as you would expect for any modern WiFi dongle on the market; however, interestingly, the USB hub supports powering either directly from the Raspberry Pi via USB or with an optional external power source for high-power applications. Additionally, the specification includes support for Broadcom WICED SENSE functionality with an optional Bluetooth 4.1 dongle. The price is likely to be around £8.50 (US$ 15) and should be available from all of the major Raspberry Pi retailers very soon.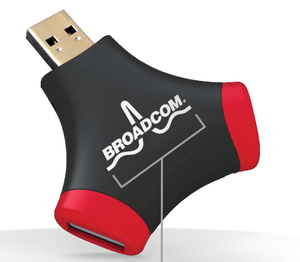 SnapPiCam Camera Project
Yet another Raspberry Pi-based camera project has recently taken to Kickstarter for funding. A previous issue of Raspberry Pi Geek featured the OTTO-hackable GIF camera, which was the first product launched to make use of the Raspberry Pi Compute Module. The SnapPiCam takes a different approach and actually makes use of the standard Raspberry Pi Model A and the official Raspberry Pi camera module, as well as a host of Adafruit accessories and a laser-cut Pibow-esque case.
Unfortunately, the Kickstarter fundraising project looks like it is going to fall short of its £40,000 target [8], but you can still find the build instructions on the Instructables site [9].