Gert VGA 666 Adapter Dual-Screen Support
A common complaint in the Raspberry Pi community surrounds the lack of native VGA support. The Raspberry Pi Foundation have always been clear that they were not keen on supporting the aging connection standard (as DVI, and subsequently, HDMI have taken over). Also, the size and cost of the VGA connector meant it was simply not practical to have one on board the Raspberry Pi. Up until now, if you wanted to use your Raspberry Pi with a VGA display you needed to purchase a relatively expensive HDMI to VGA adapter which typically retail around the £15 (US$ 25) mark. What we didn't know, is that the BCM2835 processor at the heart of the Raspberry Pi has always been capable of driving a VGA display over the GPIO pins using a display parallel interface (DPI). This fact was not previously publicized because half of the necessary connections were not being present on the Model A/B GPIO header. The Model B+ now has a 40-pin GPIO header, which contains all of the necessary signals for a VGA display, and Gert van Loo (one of the chip architects of the BCM2835, as well as the Gertboard and GertDuino) has designed a very simple add on-board to enable you to use VGA with your Raspberry Pi. Perhaps the most useful thing about this new add-on is that it lets you run a dual-screen setup alongside the HDMI connection, and this configuration is all supported in software courtesy of Dom Cobley from the Raspberry Pi Foundation. Apparently, a three-screen setup will be possible once the DSI connector-based screen is officially released, albeit not at full resolution on each screen due to SDRAM limitations. Gert has released the design as open source under a GPLv3 license and has made all of the documentation available on GitHub [8]. Pi Supply has recently launched a Kickstarter-based group-buy to bring these boards to market [9].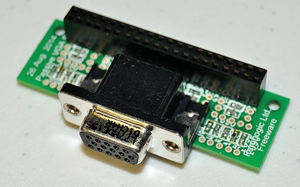 Raspberry Jam Microsite
Raspberry Jams have become an international sensation after their initial inception by Alan O'Donohoe in early 2012. Alan is one of the most enthusiastic people I have ever met, and also the organizer of the huge Manchester Raspberry Jamboree events, so it is no wonder that Raspberry Jam is now a household name for anyone in the open hardware community. Ben Nuttall from the Raspberry Pi Foundation writes, "jams come in a variety of flavors: some have talks, demos and workshops; some just provide space for people to work on projects together." Essentially, the overall aim is to display your creations, have fun and to support fellow Pi-oneers in their endeavours. Until now, there was no common listing for these Raspberry Jam events, but the Raspberry Pi Foundation is very keen to help with "spreading the jam," and they have just released their very own Raspberry Jam microsite [10]. Michael Horne, one of the organizers of CamJam (see the article elswhere in this issue), help set up the site, which even includes useful information on how to launch your own event.