C.H.I.P. – The $9 Computer
C.H.I.P is billed as "the world's first $9 computer," and that pretty much sums it up. The team behind C.H.I.P. are Next Thing Co., and you may remember them as the creators of the first Raspberry Pi Compute module-based device: the OTTO hackable GIF camera. According to an interview with Make, the developers faced several challenges while making OTTO – mainly related to the high costs and over-complicated nature of the hardware and software.
This eventually led them to begin developing their own cheap nano-computer capable of running a full Linux desktop. Next Thing Co. founder Dave Rauchwerk says "OTTO is a tool for experimenting with photography; C.H.I.P. is a tool for experimenting with computers." At its heart, the device has a 1GHz Allwinner R8 processor with 512MB of RAM and 4GB of on-board eMMC storage. It offers a whole host of other features including, but not limited to, WiFi, Bluetooth 4.0, camera sensor support, native LCD screen support (up to 8 inches), and built-in battery power and charging for use with single-cell LiPo batteries.
The basic $9 offering only supports composite video output, but you can get a VGA or HDMI adapter for $10 and $15, respectively. Perhaps most amazingly, for an additional $40, you can get the Pocket C.H.I.P., which is a portable handheld case that includes a full QWERTY keyboard, a 4.7-inch LCD screen, GPIO breakouts, and an internal 3,000mAh battery.
C.H.I.P. is a fully open source hardware project that launched on Kickstarter in early May and raised more than $2 million from nearly 40,000 backers. You can find out more information about the device and also make a pre-order by visiting the Kickstarter page (https://www.kickstarter.com/projects/1598272670/chip-the-worlds-first-9-computer/description).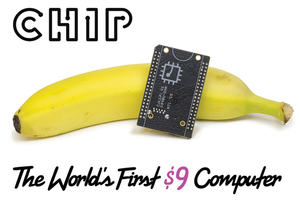 Picademy USA
Picademy is a professional development program for teachers and educators run by the in-house Raspberry Pi education team. The idea behind Picademy is to train computing and electronics teachers and give them tips and information about the best way to deliver the computing curriculum to children using the Raspberry Pi. Picademy attendees will become "Raspberry Pi Certified Educators."
The program has been hugely successful both in the sessions at the Raspberry Pi headquarters (Pi Towers) in Cambridge, UK, as well as at the other locations across the country. Some teachers have called it "the best CPD training they have ever been to," which is high praise as teachers go to lots of these!
Picademy USA is the first pilot program of Picademy outside of the UK and will take place in 2016 at four different venues. The program is being delivered in partnership with the Computer History Museum in Mountain View, California, which is where the first event will take place. Applications are not yet being accepted, but you can express interest in the program and get on the mailing list by filling in a short form on the Raspberry Pi website (https://www.raspberrypi.org/picademy/usa/).