Building Arduino Using Raspberry Pis!
You may have heard about the problems regarding Arduino.cc vs. Arduino.org and the subsequent delays the situation has caused for manufacture and availability of the official Arduino.cc boards. Recently, however, the team at Adafruit came to a deal with the Arduino.cc team to produce a range of licensed Arduino boards in their factory in New York City. Pictured here are Massimo Banzi of Arduino and Ladyada (Limor Fried) of Adafruit with one of the first Arduino Uno boards off the line. This is fantastic news and should ensure the supply of genuine Arduino.cc boards moving forward.
Perhaps the coolest thing about the arrangement is that the rigs they are using to program and test the new Arduino Uno boards feature a Raspberry Pi and a PiTFT HAT and are able to program the ATmega16U2 and ATmega328 and perform all the necessary tests in under 15 seconds. This is a lot faster than the 1 minute 37 seconds that it used to take with the previous rig – it seems Arduino and Raspberry Pi are a match made in heaven.
A video shows the test rig in operation on the Raspberry Pi blog (https://www.raspberrypi.org/blog/page/2/#building-arduino-in-the-usa-with-raspberry-pi). Interestingly, it also mentions that the Raspberry Pi production line at the Sony factory in Wales, UK, also uses Raspberry Pi boards to do the testing – which means Raspberry Pis are now testing themselves!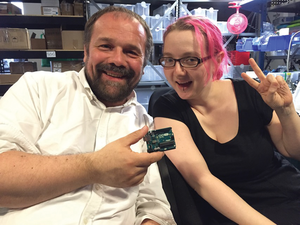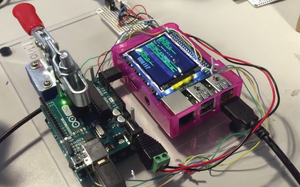 Naturebytes Wildlife Camera Kit
The team at Naturebytes has been working hard on a worthy project that is in part funded by the Raspberry Pi Foundation and Nesta to create a wildlife camera kit with a focus on education, learning, and community-based wildlife monitoring. The main product features a waterproof case with a number of mounting options to best suit the particular wildlife application and internally has enough space for a Raspberry Pi, camera module, large battery, charging circuitry, and several optional extras.
Naturebytes has just launched the project on Kickstarter with rewards ranging from £1 to £3,000. The basic offering, which includes all of the items necessary to get up and running (other than the Pi itself), is £85. If you need a Raspberry Pi to go with it, the cost is £95. If you are interested in capturing HD photos and video of the wildlife in your garden, school yard, or local woods, then this is the perfect product for you. It removes all of the pain points of setting up an outdoor project at a great price point. Read more and pre-order one for yourself at http://kck.st/1Ndsg99.