PlantPot Bot
Rachel Rayns, the Raspberry Pi Foundation's very own artist in residence, has created a project called the PlantPot Bot. It is one of only 100 kits of this beautifully designed limited edition PCB (printed circuit board). The PlantPot Bot is designed to monitor the temperature, humidity, and soil moisture levels to keep your plant healthy. If your plant becomes too thirsty or too cold, the PlantPot Bot will let you know by illuminating different LED color combinations. It also logs the light levels, humidity, temperature, and soil moisture readings and saves these in a spreadsheet, and with the Raspberry Pi Camera Module, you can set up a time lapse photo rig to take pictures of your growing plant!
Unfortunately, the only way to get your hands on one is to attend one of the workshops at FACT in Liverpool, UK, which at the time of writing are fully booked. It is, however, a great example of how PCBs can be art, too, and it showcases the versatility of the Raspberry Pi. Hopefully, the Raspberry Pi Foundation will either release the product for general sale or will release the design files so we can make some for our own gardens. You can find more information about the project at https://www.raspberrypi.org/garden/.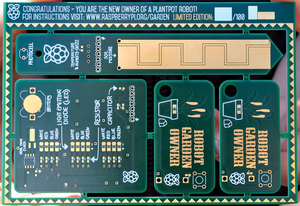 Initial State
Initial State is a new cloud-based data capture, visualization, and interaction service that began as an internal project within Lexmark to develop a set of tools for testing and debugging. It was successful internally at Lexmark and was eventually spun out into Initial State to maximize its potential. It is designed for IoT (Internet of Things) devices and is perfect for projects based around the Raspberry Pi, Arduino, BeagleBone, or other nano-computer or microcontroller platforms in which you need to process large quantities of data in real time and visualize it in a nice way.
The free version allows you to stream 25,000 events or data points up to the cloud every month, and larger paid packages are available if you outgrow this. Initial State also has a learning section on their website, which they are beginning to populate with tutorials on how to set up and use their system, as well as cool project tutorials – I particularly liked their "Beer/Wine Fridge of Awesomeness" project shown here. You can find more information about the service and sign up for a free account at https://www.initialstate.com/.