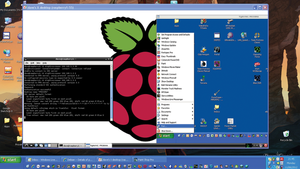 News
RealVNC for Free; Asus Tinker Board; Pi Compute Module 3; Dride Smart Dashcam; and NextCloud Box.
RealVNC offers free client for Raspberry Pi
The Raspberry Pi Foundation are working with RealVNC, a company which offers VNC (Virtual Network Computing), to offer the latest and most secure version of RealVNC to Raspberry Pi users free of charge.
Last year the Foundation bundled a VNC server with the Pi which allowed users to remotely access the device over a network. However, the server needed to be enabled manually through raspi-config, so setting up remote access was complex. The software was also rather limited.
With the new version, RealVNC are simplifying the process of accessing your Raspberry Pi from other devices. There is a new interface offering services for free for which you previously had to pay, including cloud access.
According to the press release [1], "VNC Connect offers Raspberry Pi users a range of exciting new remote access enhancements that include three headline capabilities: the ability to connect 'Back to my Pi' from anywhere with VNC Connect's optional cloud service, a simpler way to manage connections across devices, and improvements to RealVNC's experimental 'direct capture' technology. All the VNC Connect features will remain free-of-charge for use on the Raspberry Pi in non-commercial and educational environments."
There are some notable improvements to the VNC Viewer application, as per the press release: "A new VNC Viewer includes a built-in address book and enhanced UI, making it much simpler and quicker to manage your devices and connections. You now have the option of securely saving passwords for frequently used connections, and can synchronize your entries with other VNC Viewers, making it easier to access your Raspberry Pi from other computers, tablets, or mobile devices."
The new VNC server and Viewer is available immediately. To install the latest version of RealVNC on your Raspberry Pi machine, run the commands:
sudo apt-get update
sudo apt-get install
realvnc-vnc-server realvnc-vnc-viewer
All you need to do is to create an online account with RealVNC to access up to five devices via the Internet using the VNC Viewer. The Viewer is available for MacOS, Linux, Windows, iOS and Android.
ASUS announces Tinker Board
ASUS has announced a new single board computer to compete with the Raspberry Pi 3. The Tinker Board features the same form factor as the Raspberry Pi, including the number and placement of GPIO pins.
According [2] to ASUS:
"Tinker board is a single-board computer in an ultra-small form factor that offers class-leading performance while leveraging outstanding mechanical compatibility. The tinker board offers makers, IoT enthusiasts, hobbyists, PC DIY enthusiasts and others a reliable and extremely capable platform for building and tinkering ideas into reality."
The board comes with more powerful hardware compared to the Raspberry Pi 3. It's powered by the Rockchip 1.8Ghz quad-core ARM Cortex A17 CPU and the ARM Mali-T764 GPU. Tinker Board has 2GB of LPDDR3 dual-channel memory and supports 4K video output.
By comparison, the Raspberry Pi 3 is powered by a 1.8Ghz quad-core ARM Cortex A17 and comes with the Broadcom VideoCore IV GPU. It has just 1GB onboard RAM and supports HD video output.
The Tinker Board could be an ideal solution for those who are looking for a multimedia system as it offers H.264 and H.265 playback support. Playback of HD and UHD video at 30fps is supported with the Rockchip video player which comes with the board's default TinkerOS Tinker Board is equipped with a superior HD codec that supports up to 192kHz/24-bit audio. The Raspberry Pi offers only 48k/16 bit of audio.
ASUS has also created a Debian based distribution for the Tinker Board. The company is also working on supporting other Linux based distribution such as openSUSE and Ubuntu.
On paper, Tinker Board is certainly a more powerful device, however its success depends on what kind of hardware and app ecosystem ASUS is able to create and encourage around it.