Exploring the Kano Kit Pi pack and learning environment
Kano Books
The Kano companion books are free, open source learning materials designed to complement the kit and Kano OS (Figure 8). The two books together add up to 128 full-color pages, each of which typically contains fewer than 20 words or so and a large picture.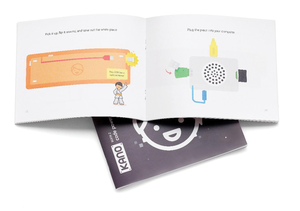 The books were designed to be like children's story books, and they are easy to follow. If you purchased the kit, you will have full-color printed copies within, and if you didn't, you can get the books from the downloads section of the Kano website [3]. The first book guides you through setting up your kit and turning on the computer for the first time. To be honest, the first book is only really relevant if you have the full kit, so you can skip straight to Book 2 if you are using the OS with hardware you purchased separately.
The second book guides you through the basic steps of the Kano OS and helps you navigate the various menus, levels, and challenges. Book 2 also includes tips, such as status tray item meanings and useful (albeit basic) command-line snippets.
Kano OS is quite intuitive as it is, so I would imagine most people could progress quite easily without needing the books, but they are a nice touch and a guiding hand for your first venture into the Kano ecosystem, especially for a child to use without the help of an adult.
Life after Kano?
Once a child (or an adult for that matter!) begins playing around with the Raspberry Pi, it can sometimes be hard to pry them away. The Raspberry Pi in general brings great fun while you work and a great sense of achievement when you realize just how much you have learned.
The Kano Kit has the same kind of effect. It will not take long before the children who use this kit will be calling themselves "Super Children" and dreaming up crazy ideas to delve deeper into the inner workings of the "brain" of the computer they have created. It is likely that Kano will release more levels, challenges, and software as time progresses, but there are also a plethora of other options to explore.
The great thing about Kano being on Raspbian is that it is not a huge jump to progress onto the main platform. The look and feel is slightly different, of course, but a full desktop is still available. The rate at which children progress to Raspbian or further will depend on age and ability, but the skills gained through completing the challenges and levels with Kano will put them in a much better place to experiment on a wider scale with the Raspberry Pi.