Distributions for the Raspberry Pi at a glance
Pidora
Pidora [7] is a Raspberry Pi version of Fedora – the community version of Red Hat Linux. Fedora is well represented on desktop PCs, and it is growing in importance on servers. The Raspberry Pi Foundation originally planned to name Pidora the standard distribution for the Rasp Pi. However, the first versions were found to be very slow and buggy, which is why Raspbian climbed to the top of the list. Meanwhile, the Pidora developers have eliminated the initial teething problems, ensuring good performance. (For older Rasp Pi models with only 256MB of RAM, however, Pidora still proved unsuitable in our lab.)
After the first boot, you can complete the initial configuration of the Rasp Pi in a graphical interface. Useful extension packages are also available; for example, Pidora can output the current IP address of the mini-computer via speech output or via LEDs in headless mode. Almost all software packages for the PC version of Fedora are available in the ARM package sources for the Rasp Pi. However, some important video and audio codecs are missing. For multimedia projects, Raspbian and distros that focus on the XBMC media center are currently the better choice.
For other purposes, however, Pidora is ideally suited – especially if you are familiar with Fedora and its specifics (e.g., the Yum package manager and the short release cycles). Unlike a PC with a Fedora installation, you are not taken to the Gnome desktop on booting, but to the more lightweight Xfce – a tribute to the limited resources of the Raspberry Pi (Figure 3).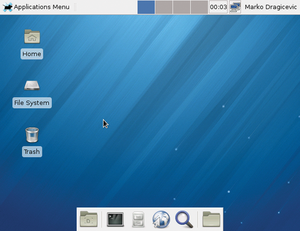 Media Center
Thanks to its hardware-accelerated graphics chip, the Raspberry Pi can play full HD videos smoothly. Additionally, it can be connected to a standard TV set, both digitally via HDMI and using an analog composite connection. What could be better than using the mini-computer as a low-budget media center? This is the goal that the OpenELEC [8], Raspbmc [9], and XBian [10] distributions have set themselves.
These Raspberry Pi media center alternatives all run XBMC [11] after booting the Rasp Pi (Figure 4). XBMC stands for XBox Media Center, and it has been under development for many years. XBMC originally ran on modified Xbox consoles and later on desktop PCs; some time ago, it was released for the Raspberry Pi. XBMC offers a wide range of possibilities for movies and music. For example, it not only plays media files from local or network drives but can also handle web streams of all flavors. Its other abilities include launching external programs, as well as the integration of scripting in a sophisticated plugin system.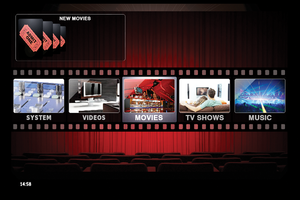 Because all three distributions use the same media center, the differences lie in the details: The sleek OpenELEC (Figure 5) boots very quickly; the Raspbian modifications, Raspbmc and XBian, need a little longer to warm up, but to compensate for this, they are more easily extensible. If you want to call a small web browser at the press of a button in XBMC, you can simply install the required Raspbian package and set up a menu on the desktop. Raspbmc has a very user friendly setup menu; however, XBian impresses with the very latest software.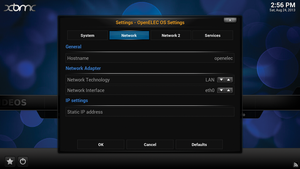 Basically, choosing between these three media center distributions can be difficult, because the differences appear only in the details. All three are very actively developed and occasionally impress with improvements. If you want to enrich your living room with a Rasp Pi media center, you should try all three distributions in advance to discover your favorite.