Distributions for the Raspberry Pi at a glance
PiBang
The developers of PiBang [14] were inspired by the ultra-slim CrunchBang Linux. PiBang uses the lightweight Openbox window manager, which in turn relies on the newer 3.6 kernel and offers more recent software versions from its package sources (although some of them are not considered stable). Besides using the original Debian packages, it offers more sources and thus more software. GIMP and AbiWord are preinstalled.
PiBang requires less knowledge than, say, Arch Linux, but it still overwhelms beginners. On first boot, the configuration is still handled by raspi-config, but for desktop operation, you first need to create a user account. Even the appearance of the desktop looks quite spartan (Figure 6).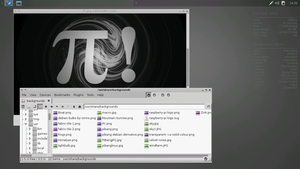 Gentoo
Although Gentoo Linux is clearly not aimed at beginners, it been around since 1999 [15] and now runs on the Rasp Pi. The key to the Gentoo philosophy is "no binary packages." Instead, you download program source code and compile it on the target machine. This approach gives you cutting-edge software, and the system can be perfectly trimmed for performance. The downside: You need to be very knowledgeable to put together the whole operating system in the shell. Furthermore, the low-powered Rasp Pi CPU takes a fairly long time for compiler runs.