Event Report: Pi and More 3
Workshops and Open Space
Between keynotes, some participants attended workshops. The first workshop was aimed at beginners: A volunteer showed how to write a distribution image to an SD card. The newcomers were also advised on which accessories to purchase. Another workshop demonstrated how to install Minecraft (Figure 2). Some participants took along their own Raspberry Pis and thus had a working installation at the end of the event. Many of those who had previously attended the beginners' workshop were back for more.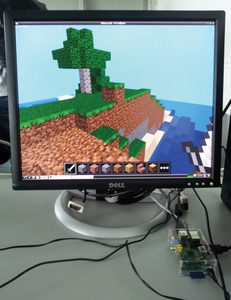 Attendees with more advanced knowledge contributed hardware setup knowledge at the many desks in the exhibition area. Here, hackers had the option of demonstrating their Raspberry Pi projects. In the meantime, Nico Maas went into more depth about his project in a separate keynote: The Sunwell project [6], which involves using RGB lamps to give optical signals to waiters in a café, telling them which table to deliver the next order (Figure 3). The lamps were implemented with Atmel microcontrollers, but control and connectivity to the point of sale (POS) system was handled by a Rasp Pi.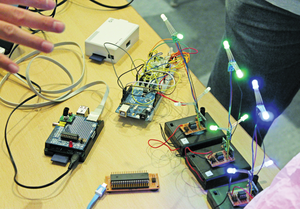 Headless
Many users operate their Rasp Pi without a monitor, for example, as a home server. Peter Sturm, who presented the last two keynotes of the day, was the first speaker to address this topic: How can you access the "headless" Raspberry Pi, for example, to change the configuration?
The most common option, according to a show of hands from the audience, uses the Ethernet interface. The discussion focused on the necessary network configuration changes in the /etc/network/interfaces file and on how to assign a static IP, if desired. Sturm also mentioned how to find the Pi using a network scan with Nmap.
The next keynote topic described access via a serial console. For this approach, you need to install a USB-to-serial adapter between the PC and the Rasp Pi. Then, you can run lsusb and dmesg to find out which interface to address and access it via a terminal emulator (e.g., Minicom). The disadvantage of this approach is that the adapter blocks several pins on the GPIO port, which are thus not available for other uses.