Extending the Raspberry Pi to a miniature music center
Desktop Client
When it comes to a client for the desktop, critical readers might question why you would want to put the Rasp Pi in the same room as a desktop just to play music, because the desktop could easily do this itself. The answer is "42" [9].
Joking aside, just ignore the question of whether this makes sense. The Gnome Music Player [10] is a simple, but sufficiently convenient MPD client for the desktop (Figure 3), and because the player has been ported to Windows, it can also be used on Microsoft clients (Figure 4). One of the most enjoyable features of the Gnome Music Player is the graphical album list and additional information on the song currently playing, including lyrics and references to similar artists.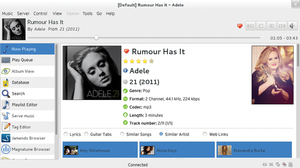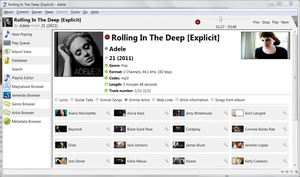 Conclusions
Armed with the Music Player Daemon, the Raspberry Pi provides a contemporary substitute for the transistor radio, and it can be controlled conveniently from a smartphone. Setting up MPD is quite a bumpy ride because of the Rasp Pi's spartan audio hardware. Overall, however, this project was great fun, and it solved an everyday problem.