Making a smart TV with XBMC and a Raspberry Pi
Smartphone Apps
Wireless keyboards with integrated touchpads offer the best solution for controlling a media center. The Logitech Wireless Touch Keyboard K400 [15] is a good example and it costs just 30 Euros. Another option is to buy one of the mini keyboards offered online over Ebay or Amazon.
These tiny keyboards are the size of the palm of your hand and come with the Air Mouse [16], which lets you control the mouse cursor from the comfort of your couch. If the TV set you are using supports the CEC function referred to earlier in this article, you will not need an additional input device once the software is installed. Instead, the TV remote control will suffice.
A smartphone is also suitable as a remote control for the media center. Several different Android and iOS remote control apps are available, such as Yatse [17] (Figure 5) and the official XBMC Remote [18] for iPhones. Yatse lets you control the mouse cursor and the keyboard.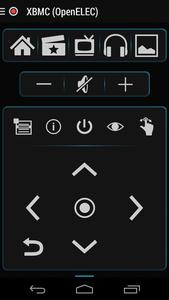 The Yatse app also provides direct access via a variety of plugins to the media center, which in turn lets you stream content from the media center on a mobile phone and a tablet. You can also display messages from your mobile phone on the TV screen.
Outlook for the Future
It is not only XBMC that will soon have a new name. In the near future, Raspbmc will go by the acronym OSMC, the acronym for Open Source Media Center [19]. The developer is also working on an alternative to the Rasp Pi, which will be tailored to the OSMC distribution. Financing for the new Vero boards is supposed to come through a Kickstarter project, but as of this writing, only the website exists.
Regarding video-on-demand providers like Watchever, Maxdome, Amazon Prime Video, or Netflix, the future still looks dim for combining XBMC with the Raspberry Pi. With the exception of Netflix, all of the providers use Silverlight Digital Rights Management to impose digital rights restrictions on their content. Netflix is the only provider that transmits video streams via HTML5 over the Internet, making it possible for Linux users to use the service without too much effort. However, only Chrome, IE, and Safari support the encrypted media extensions, EME, that are needed to process the streams.
Chrome does exist for Linux, but no version of Chrome exists for ARM processors. Mozilla has been working since May, 2014 on implementing EME in Firefox so that projects like XBMC can take advantage of the new development, but so far they haven't accomplished anything concrete. Rasp Pi users will therefore have to do without video-on-demand services for the time being.