Using the Raspberry Pi as a Minecraft server
Interaction
Depending on the server software involved, interaction with the server occurs on the console or via the web interface. The vanilla server provides a list of all commands and organizes them by page in /help. This approach lets you go through the various commands step by step. You should give player administrator rights to your player for the front end of Cuberite via Server Management | Core | Players | View Details | Change rank.
As administrator for the server, you can make the sun rise via /time day or create a downpour with /weather rain (Figure 8). You can also directly influence the selection of the play mode. For example, the creative mode (/gamemode c), which is especially favored among younger players, is easy to activate. An overview of all of the commands is found in the Minecraft wiki [13].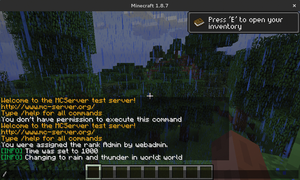 If you have made your server accessible over the Internet, then, in theory, it becomes open to all Minecraft fans, at least the ones who know the Internet address. To confine the game to friends, it is a good idea to use the Whitelist mode via the command /whitelist on. The /whitelist add command lets you add names to the list of those players permitted to participate. In Cuberite, it is easy to organize player rights on the web interface.
Conclusion
Now you can open new, multiplayer Minecraft worlds from anywhere with the small and economical Raspberry Pi. If you show the setup for the Rasp Pi Minecraft server to children, you will also be showing them a lot about Linux, the basic principles of networking, and how to operate a small server. As long as the proper motivation is there, young people should have no problem following.
A computer always used as a server should be maintained with regular service. Then, when the software starts automatically at bootup, it can be updated as needed with some simple commands. Projects available free of charge are maintained online [16].