3D Slash CAD software works on a Raspberry Pi
Innovative or Convoluted?
Determining whether 3D Slash is a "good" application is difficult. On the one hand, this agile program shines with its simple operation and appealing animation, such as parts of the cuboid flying away when they are removed (Figure 6). On the other hand, some very simple operations are cumbersome to perform.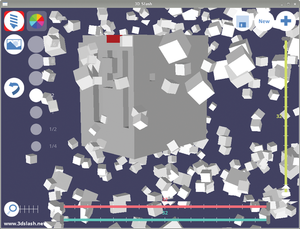 For example, to measure a piece of work precisely, the user has to grab all three of the colored scales on both sides, one for each dimension, and move them simultaneously. This procedure requires at least six mouse clicks. Competitors like Tinkercad display all dimensions for each object, allowing the user to move the objects via handles, as well as enlarge and minimize them without laboriously selecting and switching tools beforehand.
The program was probably not intended for hobbyists who want to create technical designs. Children and artists who are not interested in precise measurements for their concepts can make designs with 3D Slash that would not be possible with Legos, for example.
Conclusion
3D Slash demonstrates that even graphically demanding programs can run smoothly on the RPi 2, largely because of hardware acceleration. In view of the paucity of available 3D applications for the Rasp Pi, and Linux in general, any new arrival is a welcome addition to the category.
Children especially should find this application interesting because of the flat learning curve. Better yet, 3D Slash makes virtual objects that can then be turned into real-world objects with 3D printing [3]. For technically complicated designs that require exact measurements, the user should stick with classic CAD software.
Hopefully, 3D Slash developers will continue to improve this software. Even small changes to its operation would bring significant improvements and serve to lessen the gap with commercial competitors.