The Pi Wire
This is Your Pi on Docker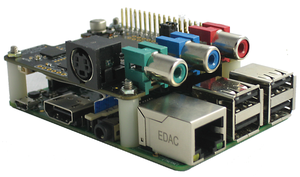 The Hypriot project has announced the first major release of HypriotOS, a container OS designed to help users implement the Docker container system on Raspberry Pi hardware. According to the project website, HypriotOS takes you "from zero to Docker within five minutes, on any device of the complete Raspberry Pi family" [4].
The Docker container system provides a means for applications to run in an isolated environment without much of the overhead and complexity associated with virtualization. Containers are big news now in professional IT environments, and HypriotOS brings the benefit of containers to the Raspberry Pi. Container images of common Linux and Raspberry Pi applications are available at the HypriotOS website.
Is the Raspberry Pi an ideal platform for Docker? Hmmm … lets see now. Docker is a very elegant and efficient tool for distributing and running applications, and containers require less overhead than conventional virtualization, but a Pi is still a Pi. The Pi-based Docker system is probably better suited for testing and training than for a real-world production environment.
PiCapture Brings Video Hardware to the Rasp Pi
Lintest systems has announced the PiCapture line of video capture products [5]. The PiCapture add-on board, which mounts on the Raspberry Pi, receives input from a video device and converts it into a format compatible with the Raspberry Pi's camera interface. In other words, PiCapture emulates the Raspberry Pi camera and supports input from a wide range of external video sources. The SD1 version of PiCapture supports "standard-definition interlaced video in the CVBS standard (NTSC/PAL) from Composite, S-Video, and YPbPr Component sources." Another high-definition version called PiCapture HD1 is currently in development and, according to the company, will be available soon.
According to Lintest, "Since PiCapture fully emulates the Raspberry Pi camera module, all software such as Raspivid, PiCamera, and other related applications are fully compatible."
PiCapture is now available for pre-order [6]. The official US ship date is slated for September 30, 2016. Watch the Lintest website for news on later releases in other areas.