Using the Raspberry Pi as a backup server
The Client
Each of the diverse installation packages available for Windows has a version that comes with and without a tray icon. The version without the tray icon allows for completely transparent backups. The version with a tray icon is more flexible, indicates current status, and permits a series of actions. Because UrBackup runs as a system service, you will need administrative rights for installation.
You do not need to interact with the software on a daily basis. Even so, the tray icon makes it possible to start backups outside of the specified cycles and, if desired, to inquire about status (Figure 4) and pause a backup that is running.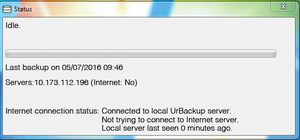 If a file on the client has mistakenly been deleted or changes have been made that cannot be undone, you can easily download the relevant backup from the web interface from the Backups menu. However, you will find that it is possible to click on the individual backups only after touching them with the mouse cursor (Figure 5). The client downloads individual files directly. An entire folder gets downloaded as a ZIP file.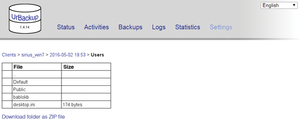 Tips and Tricks
Although incremental backups usually take just a few minutes, complete backups require significantly more time, in part because of the greater data volume. Moreover, Windows does not permit the background service to utilize the entire performance capacity of the computer. Although UrBackup prevents the Windows PC from switching automatically into sleep mode, you should still schedule at least one night for a complete backup. UrBackup optimizes the space required by the files on the server with hard and soft links, greatly reducing the frequency of complete backups.
In addition to conventional backups, UrBackup can also create partition images or so-called image backups. The advantage of these types of backups is the ease of restoring data to a new hard drive. A file for restoring the images is on the Download page under Bootable restore CD/USB stick [9]. This file installs a bootable mini-system on a USB stick. Once booted, the system contacts the UrBackup server and installs the image from there.
Unlike Linux, Windows is never able to separate user data from system data cleanly, which can sometimes lead to considerable difficulties because user files in the image backup could be older or newer than the corresponding files in the normal backup. Luckily, UrBackup also lets you extract individual files from the image backup to iron out potential errors. Details of this technique are found in the administration manual.