Using the Raspberry Pi for a multimedia center on your boat
WiFi
Having WiFi on your boat is a good idea even though it might seem superfluous. A WiFi access point makes it possible for all WiFi-capable devices on board to communicate with one another, meaning you can also enjoy the programs streamed by the Rasp Pi on a tablet. Additionally, it is possible to use UMTS sticks and expand Internet functions for many WiFi access points. An appropriate prepaid rate can offer several gigabytes of data volume for a small amount of money.
Creating an access point on a boat is easy. For example, the TP Link MR3020 [5] works well getting its power from the USB jack and can therefore be easily operated with a USB-12-volt adapter. The device costs around 30 Euro on Amazon. This is about as much as you would have to pay for a suitable UMTS stick for an Internet connection. The TP Link takes up practically no space, which is an important feature on a boat. Free Software enthusiasts can exchange the pre-installed firmware for the free OpenWRT system, which is what I did.
Cable Chaos
It takes a lot of cables and outlets to connect the components together properly. Even though the boat had a complete 12-volt power supply system already built in, there was no outlet near where the television was supposed to sit (Figure 3). And, it was necessary to add various extension cables between the antenna and the DVB stick, from the self-installed, 12-volt panel to the TV bracket, and at other places.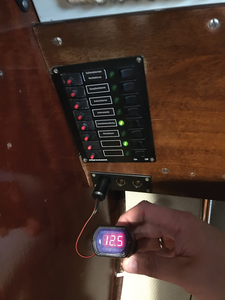 As it turned out, the various cable-laying tasks required significantly more time than the installation of the multimedia hardware itself. Still, the effort was worth it. Once the project was done, the boat had its own WiFi access point, a functioning outboard DVB antenna, and a Raspberry Pi that played back multimedia content on a connected TV.