Data processing with the Linux tools
Database
The calculation also works with a database management system (DBMS), which is designed to support these kinds of tasks. Although you could use any database with an SQL query interface, I use PostgreSQL [11] in this example.
So-called aggregation functions [12] – sum, min, max, and avg – are used by PostgreSQL to evaluate values. The invocation for this example would be:
SELECT SUM(number*distance) FROM drivinglog;
This time, drivinglog is not a file, but rather a database table. The terms number and distance refer to columns in the drivinglog table. Listing 5 shows the table entries, as well as the invocation for determining the total distance. PostgreSQL generates a results column called sum that contains the total distance as a single line.
database=> select * from drivinglog;
 **
 number|       from_city   | to_city | distance
--------+------------------+---------+---------
      1 | Berlin           | Potsdam |      30
      2 | Berlin           | Hamburg |     280
      2 | Frankfurt (Main) | Paris   |     575
(3 lines)
 **
database=> select sum(number*distance) from drivinglog;
 sum
------
 1740
(1 line)
Spreadsheet
If you would rather click around than program, you can use a spreadsheet, such as Open/LibreOffice Calc [13], Gnumeric [14] from Gnome, or the standalone programs Pyspread [15] or Sc [16]. Calc even offers a suitable template free of charge [17].
Regardless of the spreadsheet, you'll need to enter the short formulas necessary for the calculations. These formulas allow you to calculate the number (of trips) multiplied by the distance, as well as the total of all intermediate values. In the example shown in Figure 2, the corresponding expression is sum(A2*D2,A3*D3,A4*D4).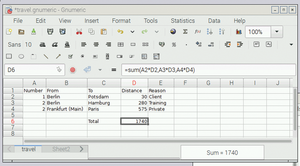 The sum() function interprets the values inside brackets as a list of individual values. The entry A2 refers to the second row in column A of the current sheet.