Using COMCentre to extend RISC OS into a communication center
COMCentre Apps
COMCentre can handle much more than just sending and receiving text messages: you can use COMCentre as an entire UMTS communication interface (Figure 5). You can extend the applications in COMCentre as needed; see Table 1 for a summary of some of the most important COMCentre components.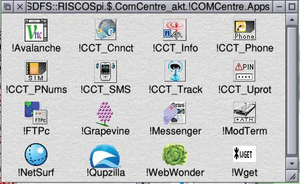 | Component | Screenshot | Function |
| --- | --- | --- |
| !CCT_Cnnct | | Responsible for generating a connection to the Internet, thus enabling Internet tasks such as browsing and email. |
| !CCT_Info | | Provides various pieces of information about available networks. Some patience is required because the software takes a long time to collect the appropriate information. |
| !CCT_Phone | | This part of the program is still under development. Once completed, the component will let you make telephone calls via the USB stick. |
| !CCT_PNums | | Makes it possible to administer telephone numbers. |
| !CCT_SMS | | Retrieves messages automatically when the program boots. A watcher monitors for additional incoming messages in the background. |
| !CCT_Track | | Transmits the location via cell ID. It often works, but not always. The location is displayed as a small image in the browser. Works best when the MapView software from the same developer is used. |
| !CCT_Unprot | | Inputs the pin if it has not been set globally via !Configure. If necessary, this window appears automatically. |
| !CCT_Modem | | A simple modem terminal in the task window. It is suitable for sending AT commands to the modem, so you can control the modem functions directly. These AT commands are not exactly intuitive and comprise a combination of letters and digits, thus making mistakes all too easy. |
Conclusion
RISC OS might appear somewhat exotic at first glance; however, you quickly learn that it is just as convenient as other operating systems.
COMCentre offers a free and complete package for everything having to do with mobile communication under RISC OS, allowing you to send and receive text messages using a practical interface.