Testing and comparing small-board computers
Conclusion
How do you classify the test results according to possible user scenarios? The Odroid-C2 is a good choice for use as a server, a media center, and (with some restrictions) an ultraportable desktop replacement, for which even the third generation Rasp Pi often pushes its limits. The same goes for CPU performance, I/O performance, network throughput, and graphics performance. The Odroid-C2 does better in each of these categories.
When the task at hand is the construction of a hobby project, automating sensors, setting up computer clusters (Figure 8) or a home automation project, or learning through experimentation with hardware and software, then the Rasp Pis really shine. Compared with competitors, they have an incomparable community, a large body of user knowledge accessible on the Internet, and a uniquely well-built infrastructure. If you want to use the Odroid-C2, Pine A64+, or any of the many other alternatives, you will have to rely on your own know-how and, ideally, be willing to contribute to the respective community.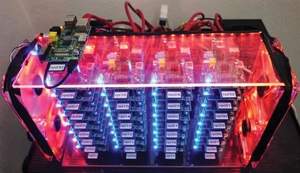 Another consideration is that updated kernels are always standing ready for the Rasp Pi user. The competing SBCs reviewed here are still making do with Linux kernel 3.14, which has not had any official support since August 2015. Odroid is starting to make efforts in this regard, so you should be able to get the 4.4 kernel within the next few months.