Raspberry Pi 3 Model B in detail
Web Browser
With the RPi3 Epiphany browser, I browsed the web after first activating the experimental desktop GL driver. This change led to performance problems, hang-ups, and screen tearing with YouTube; therefore, I recommend first deactivating the driver in raspi-config, which happens to be the standard setting. The HTML5 video player for YouTube works in Epiphany without any problems; however, the resolution is a maximum 720p (Figure 5). YouTube only offers 1080p resolution for certain browsers, such as Chrome, Firefox, and Internet Explorer.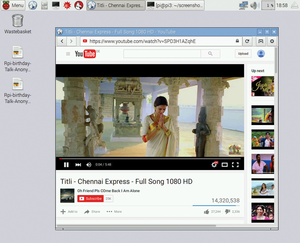 Web pages render fluidly for the most part. Images not contained in the cache appear with a bit of hesitation and gradually display from top to bottom (e.g., when displaying the photos in the Wikipedia Raspberry Pi article [6]). A desktop PC can display these images immediately and without any pauses. This problem also applies to demanding websites, like Google docs, where the RPi3 experiences delays.
Pages and images build up noticeably faster than on the RPi2, and scrolling is more fluid. Consequently, the complete setup involving the RPi3, Raspbian, and Epiphany is ideally suited for everyday use. The Raspberry Pi Foundation is currently considering a switch to Chromium as a standard browser. This development will hopefully provide Rasp Pi users with even faster page display and access to 1080p videos on YouTube.
OpenELEC
Users of the Kodi distribution OpenELEC also profit when switching to the RPi3. The Kodi media center works a bit faster and easier than before. Longer load times still occur when plugins are invoked for the first time. However, this issue appears to have more to do with downloading data than with slower processing.
During testing, the RPi3 played the blender film Sintel [7] in 1080p as an H.265-coded video. We observed almost no stuttering. This test reveals some significant benefits for using an RPi3. With the RPi2, the image stuttered much more strongly and hang-ups occurred during scene changes. Although the new Rasp Pi continues to use the same GPU as in the other Pis, it has opened up access to a larger choice of movies, thanks to a more powerful CPU and a higher clock rate for the graphics chip.
Playing back a DVD from an external device provides a smoother start and operation. However, the external device had a more hesitant feel when powered through the 2.5A power supply. I therefore recommend that the external DVD device be outfitted with its own power supply.