Raspberry Pi as a backup for a conventional PC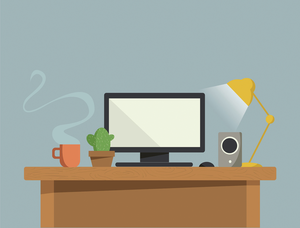 Temporary Desktop
Is the Rasp Pi only for hobbies and experimenting, or will it work as a replacement desktop system?
Nowadays nothing much happens without the Internet. The Internet serves as a medium for tasks ranging from buying a train ticket to getting an application to vote. But what happens when the home PC suddenly stops working? A smartphone is only a weak stopgap measure restricted to mobile use. Can a Pi fill in?
Raspberry Pi might not be ready out of the box. Neither Raspbian nor Pidora come with the appropriate software configuration for easy desktop operation, and the available hardware also has to be up to the task.
This article examines some important steps you can take to prepare you Pi to serve as a desktop computer that will work for users who don't have a background in Linux.
The list of shortcomings can be made arbitrarily long, depending on your expectations. What becomes immediately apparent is that the Rasp Pi requires more installation and configuration time if you plan to use it as an emergency desktop system. This article assumes you are running Raspbian. Pidora is not considered because the current version, Pidora 18 RC1, was noticeably slower during testing. Pidora also exhibited various problems with package dependencies, including failure to install Thunderbird.
Packing up the Belongings
Although a Rasp Pi working in headless mode typically requires no peripheral accessories other than a network cable and the obligatory electrical outlet, a Rasp Pi functioning as a desktop has very different requirements. It is true that connecting a monitor to the Rasp Pi does not present much of a problem. (If the screen has no HDMI interface, you will need to purchase an HDMI-to-DVI adapter for a few bucks.) Most of the additional hardware, however, has to be connected to the computer through USB, whether it be the keyboard, mouse, WiFi router, printer, or scanner. Together with one or two additional connections for bulk storage, the necessary hardware may require up to seven USB connections. An additional port for a USB sound card becomes necessary if good sound is important to you and you do not like to use HDMI.
Therefore, you will need an active USB hub if you expect to use your Pi as a desktop system. Make sure the hub you purchase can provide at least 500 mA for each port. Many hubs on the market offer only 2 A available for up to seven ports, which would support only four connections at 500 mA. This limited amperage is found even with dealers who specialize in Rasp Pi, such as The Pi Hut. These manufacturers seem to make the tacit assumption that not every connected device will utilize all of the available power budget. Nonetheless, it is better to be generous in setting up the power supply, because many problems arise when hardware functions with insufficient power.
On the other hand, it is not always necessary to have a complete set of USB ports. The network connection via Ethernet saves the use of one port and a wireless mouse and keyboard combination saves yet another. Likewise, when a multi-purpose printer with integrated scanner is connected, you save a third port.
An emergency PC does not necessarily require the one or two connections for bulk storage. Still, it makes sense to use a permanently connected USB stick for the home directory, otherwise known in Windows as My Documents. The second connector remains free for units that will be plugged in temporarily, like a camera, smartphone, or another USB stick used to exchange data.
Even when you need only a minimal amount of equipment, it is difficult to avoid the need for a USB hub. Stability is another good reason for having an active hub. Plugging a USB stick or an external hard drive directly into the Rasp Pi can sometimes require so much power that the computer will restart. In my case, a spontaneous restart even happened during tests involving very small sticks with a capacity of a mere 128MB.
WiFi and Devices
It is not a problem to make a connection to the Internet even without additional configuration. For access via WiFi, you will, however need a supported WiFi stick, which you can purchase at minimal cost.
Choose your WiFi stick carefully. The safest way to proceed is by visiting a web shop that specializes in the Rasp Pi. Alternatively, it pays off to look over user comments on a website like Amazon, because the commentary will frequently shed some light on issues of compatibility. If neither of these two possibilities proves effective, take the time to briefly research the Raspberry Pi pages at the Embedded Linux wiki Elinux.org [1]. Not every dongle works for the Rasp Pi, and sometimes manufacturers change the chips used for their products without changing the product name.
The printer and scanner you already have might not actually work with Raspbian or a different Pi distribution. As a rule though, most devices that are supported with open source drivers by a normal desktop Linux operating system will also work with the Pi.