Huawei Board HiKey 960 for AOSP developers
Linaro has announced a new development board, the HiKey 960, from Huawei, a Linaro Core member. The board was designed to provide access to the latest ARM mobile technology for Android Open Source Project (AOSP) developers.
The new board is based around the Huawei Kirin 960 octacore ARM big.LITTLE processor with four ARM Cortex-A73 and four Cortex-A53 cores with 3GB of LPDDR4 SDRAM memory, 32GB of UFS 2.0 flash storage, and the latest generation Mali-G71 MP8 graphics processor.
"Initial software support for the board is provided in the AOSP source tree based on the Android Common Kernel using the Linux 4.4 kernel release. Linaro and Huawei are also working on the Linux 4.9 based Android Common kernel and maintaining support for the Kirin 960 SoC in the mainline kernel.org tree, allowing for the availability of multiple Linux distributions for this board in the future," according to the press release [4].
The target audience of the board are those mobile developers who are looking for new and "innovative functionality with new and existing sensors, security and other peripheral hardware and software, and developers working on derivative products for markets like digital signage, point of sale (POS), robotics and others outside the traditional mobile AOSP space," said the press release.
The board is being sold through 960 Boards for $239.99.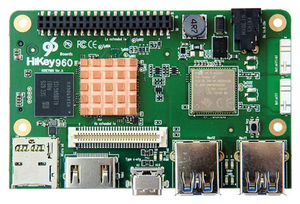 British invasion: micro:bit comes to Adafruit
The British are quite innovative when it comes to teaching computers to children. The BBC micro:bit, a super small ARM-based embedded system that measures 4x5cm, is powered by an ARM Cortex-M0 processor, and has an nRF51822 with 256KB/128KB flash plus 32KB/16KB RAM and two sensors: an accelerometer and a magnetometer. It has USB and Bluetooth USB connectivity, a 25-LED display, and two programmable buttons. The board comes with a 23-pin edge I/O connector and five ring connector to interact with other devices.
The board is now available in the US through Adafruit as the micro:bit Go bundle.
"Designed specifically for kids and beginners, the micro:bit is a pocket-sized computer that you can code, customize and control to bring your digital ideas, games and apps to life. It's a small, code-able device that is a non-intimidating introduction to programming and making – switch on, program it to do something fun," said Adafruit in a press release [5].
The micro:bit Go bundle is an ideal device for children who are new to coding and hardware.