New Products
What's new in the SBC, IoT, and maker realm.
Raspberry Pi Foundation Starter Kit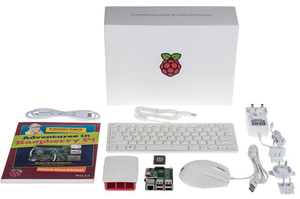 In 2016, the Raspberry Pi Foundation sold their ten millionth Raspberry Pi, and to celebrate, they released the Raspberry Pi Starter Kit, a collection of their "own idea of what the perfect bundle would look like." The kit includes a Raspberry Pi 3, mouse, keyboard, case, power supply with a set of international power adapters, HDMI cable, SD card, and an instructional book on coding for the Raspberry Pi. The kit is available from various suppliers for $130/£99.
Source: https://www.raspberrypi.org/blog/ten-millionth-raspberry-pi-new-kit/
Teensy USB Boards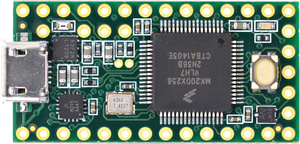 PJRC offers a number of 8-bit and 32-bit Teensy boards based on the Atmel AVR and Cortex-M4 processors. These small boards have minimal footprints (1.2x0.7 to 2.4x0.7 inches), can use Arduino software and libraries, and come with the Teensy Loader (in GUI and command-line versions) for downloading and executing your programs on the boards and other software development tools (e.g., WinAVR C compiler; Teensyduino, an add-on for the Arduino IDE). The PJRC website has specs, hardware and software add-ons, and use examples. Boards range in price from $10 to $30.