RedBear IoT pHAT for the Raspberry Pi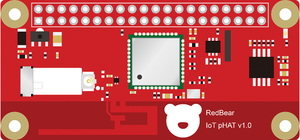 Although this HAT will work on any 40-pin Raspberry Pi, it was "designed to fit perfectly on the Pi Zero." The IoT pHAT adds WiFi (802.11n, 2.4GHz) and Bluetooth (classic and BLE), which means you can remove the USB OTG cable and USB hub from your Pi Zero and use a wireless keyboard and mouse instead. In addition to an internal antenna, the HAT has an external antenna socket that is activated by a switch to extend your Bluetooth and WiFi range. The IoT pHAT is less than $13 at the RedBear website.
Source: https://redbear.cc/product/rpi/iot-phat.html
micro:bit Kits
Pimoroni offers a number of kits to help you put the BBC micro:bit computer into your projects. The pocket-sized computer has a built-in motion detector, compass, LED display, and Bluetooth. All kits include a micro:bit and batteries. The Essentials kit supplies the cable needed for power and programming, the Complete Starter Kit adds a breadboard for solderless prototyping, and the Prototyping Kit throws in an edge connector, wires, machine screws, and a mounting plate. The kits range in cost from £16 to £37.