Testing the NanoPi NEO and the NanoPi 2 Fire
Elegant Home
Very nice, and inexpensive, cases are available for both the NanoPi NEO and the NanoPi 2 Fire (Figure 2). If you want a color that is not offered online, you can either 3D print a case or have one printed to order. Print files for the NanoPi NEO [2] and the NanoPi 2 Fire [3] are found on Thingiverse. Unlike the standard case for the Rasp Pi, which tends to have heat issues, the NanoPi cases are made to ensure adequate ventilation.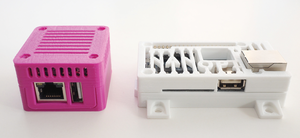 Software
As is often the case with hardware manufacturers, FriendlyARM provides only limited software support. Unlike Banana Pi and Orange Pi, however, there is some support. For example, you can download a complete cross-compile toolchain for building a kernel, as well as firmware, making integration – in some distributions, at least – easier.
Two Linux distributions run on the NanoPi NEO. These are the "official" Friendly ARM distributions based on Ubuntu Core and a community version from Armbian [4]. After all, the demands placed by a purely headless system on an operating system are minimal. The customary applications work with both operating systems, which are based on Debian.
BSD friends will find a corresponding image as the third version for the NEO. In addition to Debian and Android, various community distributions, such as Ubuntu MATE and Kali Linux, run on the NanoPi 2 Fire. The Debian distro from FriendlyARM appears to be less than generous. For instance, in spite of support for HDMI, the interface cannot be used for sound output.
Almost all of the Rasp Pi alternatives have a run-capable operating system rooted in Debian that contains nearly unlimited software. This is also the case for the NanoPis, which usually suffice for special projects. If you are looking for long-term support, you will have to resort to hunting for that information yourself. Armbian offers a glimpse of hope in this regard from its active community, which supports a wide range of computers, thus ensuring further development.
Installing Armbian works just as easily as it does with Raspbian. The image is put on the SD card with Win32DiskImager or dd. It is a bit more difficult to modify Armbian on the command line. A detailed description of the procedure is provided on the FriendlyARM wiki. With the NanoPi NEO, you will have to use SSH because of the missing HDMI output.